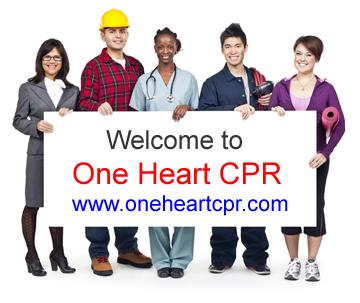 Everyone Should Know CPR, Because Everyone Has Power To Save Lives In Their Hands.

Facts About CPR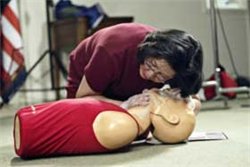 Sudden cardiac arrest is the leading cause of death in adults.

Most cardiac arrests occur in persons with underlying heart disease.

CPR gives a person over a 10% chance of survival from sudden cardiac arrest.

75% of all cardiac arrests happens away from hospitals. 30% happen in a person's home.

The typical victim of cardiac arrest is a man in his early 60's and a woman in her late 60's.

In sudden cardiac arrest the heart goes from a normal heartbeat to a quivering rhythm called ventricular fibrillation (

VFib

). This happens in approximately 2/

3rds

of all cardiac arrests.

VFib

is fatal unless an electric shock from a defibrillation, called a AED (automatic external defibrillator) can be given. CPR does not stop

VFib

but CPR extends the window of time in which defibrillation can be effective. CPR provides trickles of oxygenated blood to the brain and heart and keeps these organs alive until defibrillation can shock the heart into a normal rhythm. If CPR is started within minutes after sudden collapse of a person, followed by immediate defibrillation if available gives a person has a greater chance of survival.
A Life Saved through CPR (American Red Cross)
DISCLAIMER: We offer American Red Cross course certification and ProTrainings certification/American Heart Association guidelines courses. All of our courses strongly promotes knowledge and proficiency in CPR/AED and First Aid, and have developed educational materials for that purpose. Use of these materials does not represent sponsorship and any fees charged do not represent income to these associations other than for certification purposes.
<script type='text/javascript' data-cfasync='false'>window.purechatApi = { l: [], t: [], on: function () { this.l.push(arguments); } }; (function () { var done = false; var script = document.createElement('script'); script.async = true; script.type = 'text/javascript'; script.src = 'https://app.purechat.com/VisitorWidget/WidgetScript'; document.getElementsByTagName('HEAD').item(0).appendChild(script); script.onreadystatechange = script.onload = function (e) { if (!done && (!this.readyState || this.readyState == 'loaded' || this.readyState == 'complete')) { var w = new PCWidget({c: 'f62b88fb-8db4-4ef5-81eb-e9fda189fab6', f: true }); done = true; } }; })();</script>