Group class rates available. Contact (323) 280-3586 
Classes are scheduled by pre-registration and 

pre-payment

.  
Pre-payment is required for all classes.
All classes must be 
pre-paid
 prior to the scheduled class date you request.
You have several options to pay for your class:
Online through our direct link with 

Paypal

.

Contact me via info@oneheartcpr.com  to request your payment by telephone with your debit/credit card.

Company check  3 days prior to your selected class date.
There are no more same day cash payments on the day of class!
If you are a group seeking training, I can provide an Invoice. Please call (323)280-3586 or email me  info@oneheartcpr.com for more details.
Class Registration
Go to the CALENDAR TAB and select your class date,then go to CONTACT US page to send a request by email. Include your class preference, email address  and your
cell phone 
number.  You will receive an Invoice or a direct link to Paypal to complete your transaction with  your debit/credit card.
If you desire to pay over the phone with your debit/credit card call (
323)-280-3586
, and leave your cell phone number.  If you need an invoice one will be created and emailed to you. Indicate the name of the class you want and the date you want from the
Calenda
r. You will contacted 
in 24 hours by email and/or text message 
. Payment due 
within two days
 prior to class date. No cash payments on day of class. No personal checks unless authorized company check.
If you cancel your scheduled class with One Heart CPR you must call (323) 280-3586 24-hours prior to your class date.  There are NO REFUNDS for 

cancellations

 under 24 hours. However, you will have an option to re-scheduled your class to another date.  If you are a NO SHOW on the day of class and you did not notify One Heart CPR in

advanace

 

within 24 hours

,your forfeit 100% of your class fee.
Refunds

will only be given under the following condition:
One Heart CPR cancels the class, upon which One Heart  CPR will call/email you of to notify you. 100% refund of your fees will be returned to the customer.

You contact One Heart CPR 24 hours prior to your scheduled class date by phone at 

323-280-3586

  with notification. Upon notification One Heart CPR will refund 100% of your fees.
 

 
List of Class Description                 
1. Adult/Child CPR

AED

First Aid 2/year Certificate with American Red Cross 
$60. This class is a

layresponder

non-healthcare professional class.OSHA compliant. Acceptable for: All general employment not work with infants.
2. Pediatric (Adult/Child Infant) CPR

AED

First Aid 2/year Certificate w/American Red Cross $70. Class is l

ayresponder

OSHA compliant. Acceptable for: Anyone working with pre-school through middle-school; Nannies
,  Babysitters, new parents; grandparents; foster parents. 
3. Hands-Only CPR for All Ages - No Certification. Call for price.
4. Basic Life Support (

BLS

) 2/year certification w/American Red Cross $85. 

Acceptable for: EMT's; Nurses; most all healthcare professionals.
5. CA Childcare First Aid + CPR AED (8-hour long class) required for some staff & Owners/Directors of in-home daycare business or facilities. 

CA State License approved class with American Red Cross certification. 

Call for Price.
6. Adult/Child/Infant CPR AED First Aid ONLINE/BLENDED w/Skills Practice Manikin Evaluation.  Includes 2/year AHA Certification  $55.
 CA Childcare Training Module
Under Title 21-22. all daycares licensed by the state of California must be in compliance and complete this training. Presently, Effective December 31, 2016, he American Red Cross is no longer offering the Preventative Health & Safety module certification. One Heart CPR can certify only the CA Chidcare First Aid +CPR AED 8-hour course, certified by The American Red Cross.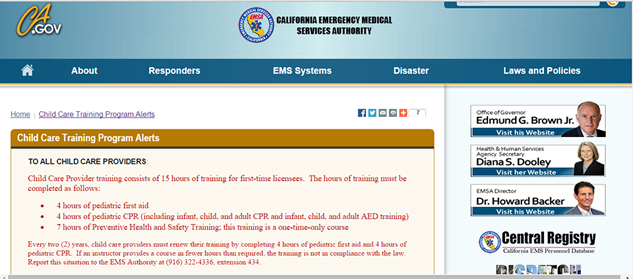 Dad Learns CPR, Saves Son 11 Days Later